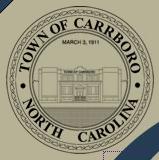 The City of Carrboro's Board of Aldermen passed a resolution Tuesday to move forward with an AIRE feasibility study exploring how the town might create solar electricity at their farmers market.
The township currently spends $15,000 – $18,000 per month on electricity for municipal operations. In an effort to cut energy costs and flatten the rising cost of electricity, Carrboro wants to develop the solar electricity project in partnership with investors who can realize the many attractive tax benefits now being offered for renewable energy projects and can cover 80% – 90% of the installed cost of a renewable energy system.
For more information on this development, see The Daily Tar Heel article HERE.