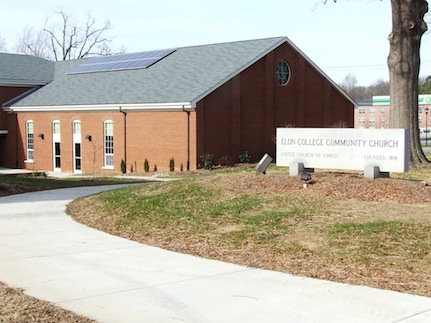 AIRE's work with Elon Community Church and First Congregational UCC was recently featured in an article on the United Church of Christ's (UCC) website. Please enjoy the below sample before reading this fine article in it entirety at their site HERE.
If imitation is the best form of flattery, then the members of First Congregational UCC in Asheville, N.C., have many reasons to feel flattered. The church's 2011 solar panel installation project has since inspired congregations from as far away as the West Coast to reach out for advice on how to do the same thing. Going one step further, its neighbor, Elon (N.C.) Community Church UCC, used the Asheville congregation's plan and model to achieve its goal of a solar panel installation earlier this year.

"We're very excited we were able to take the lead on this around here," said the Rev. Joe Hoffman, pastor of First Congregational UCC. "There has been a lot of positive feedback from the community and from other churches who want to do this too. If it's something we can inspire others to do, we're glad we can help."

The idea of installing solar panels at First Congregational UCC had been on the table for a few years, but the cost was a hurdle Hoffman wasn't sure the environmentally-conscious congregation could overcome. While there are many tax and rebate incentives available for eco-friendly home and building upgrades, churches do not qualify for them because of their tax-exempt status.
You can read the article at the United Church of Christ's site HERE.