One of the obvious challenges in going solar, whether you're a nonprofit organization or an aspiring green energy citizen, is paying for it. We've always said that solar is a finance problem, and it is, although there are conspiring barriers.



I recently visited with Rick Tazelaar of the Clean Energy Credit Union at a Pearl Street coffee shop in Boulder, Colorado and was impressed by what I learned. This institution had caught our eye a little while back, but we'd not had the chance to really dig in. Then I read about them in Everything for Everyone, a new book about cutting edge cooperatives, so I knew it was time to get acquainted since they're an important development in the ecosystem of community-based clean energy.
You should too if you're considering putting solar on your house, buying an electric vehicle or an E-bike, or thinking of an energy efficiency retrofit. Also, if you have some funds you'd like to park in a savings account or CD and want to support clean energy adopters, I urge you to open an account. Uniquely, the CECU is devoted 100% to clean energy. All of their lending goes to support clean energy adoption. Unlike commercial banks, none of their proceeds go to shareholder profit or to fancy bank buildings. You open an account and you are an owner, so it's a democratic financial institution that supports nothing but your interest in clean energy.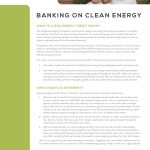 Their loan products are really designed well. For example, they make a loan to cover the portion of your solar system that you'll get back through taxes (your residential investment tax credit) and then a loan for the balance over a 12 year term. The interest rates are the best we've seen. Loans are secured by the borrower's good credit and the clean energy equipment being purchased. They're growing carefully, won't make risky loans, and have a solid sustainability strategy. Rest assured that the interest you pay when you borrow for your clean energy purchase goes to support CECU's ongoing clean energy lending! It's a win-win.
Contact the Clean Energy Credit Union at:
info@cleanenergycu.org