Because it's cold outside, but mostly for other reasons, I've been thinking about quilts, so I wanted to write about them as a reflection on the past year and in contemplation of the new one upon us. My family made one of those "barn quilts" that we see so much of in rural country for friends of ours as a wedding present. My daughter created the design, I laid it out on the 4×4 piece of wood, my wife and my other daughter contributed to the finished work. Our friends will hang it up on the side of their farm house out in the rural piedmont region of North Carolina.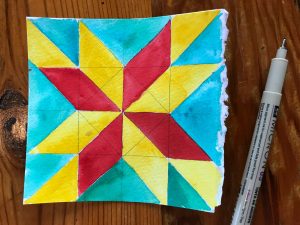 This process revealed something to me, something to learn from. We didn't shop for a gift, an act of rote consumption we so routinely do without even realizing its implications. Instead, we created something beautiful together. This got me thinking about our just-married friends, how the quilt was a reflection of what they'd done with their vows. They brought pieces together, not of fabric, but sons, daughters, and families. Those individuals became parts of a new whole. They brought new energies to their land, a small farm with a past and new stories to be told.
The more I thought about quilts, I realized that many of us have them in our history. I have in my office a framed quilt given as a gift for work on the Coalfield Delegation to the United Nations Commission on Sustainable Development in 2006. It was given at our last meeting up on (what's left of) West Virginia's Kayford Mountain, that towering island of moral resistance surrounded by the desecration of mountaintop removal coal mining. That's the ancestral land of the late, brilliant Larry Gibson. This amazing group had just done 2 years of remarkable international quilt making, so to speak. From the coalfields of Appalachia to New York, their stories went around the world.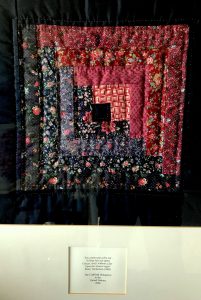 And then there's the quilt my mother made as my wedding gift. A piece of history is in it; pieces of her own wedding dress from more than a half century before. Designing and stitching the intricate pieces must have taken years of handicraft to come together as a beautiful, sturdy and useful work of art for winters nights. For her, it wasn't idle work. It was purposeful. Quilts, somewhat metaphorically, connect us to history, help us remember what has been. They are also a contemplation of tomorrow.
No, I'm not about to take up quilting, that's for sure. Not literally. But, I do hope to become a quilter of a different kind, to use the new knowledge and insight that my little quilt-aware interlude has given me. Small pieces make quilts if you put them together with a purpose. Our small efforts can make big change too. There's something I don't quite have worked out yet in this metaphor, and that's how do we become quilters, making a new, sustainable, democratic energy system from so many small discrete efforts. How do we connect in order to stitch together so many fine parts? What part of thrift that a quilt embodies equates to our energy consumption? How much is enough? What can we make ourselves, and what must be bought from a corporation over which we have no control?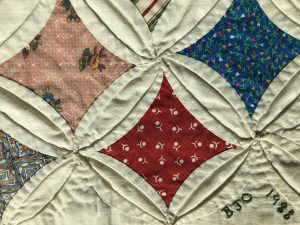 I have a deep frustration that we aren't transforming the energy system quickly enough, especially our lack of awareness as to our role in it. Thinking about the vision and patience of the artisan quilters teaches me that small pieces matter a lot. Maybe that's all any one person can do– be that one small piece– and if so, we should do it well. In that work, maybe we can find connection and community, whether it's communities of practice, faith, school, neighborhood, or our homes. These are some of the places where change is made a piece at a time.
So my aim in the new year is to find those conversations that might help us become better quilters. It takes intentional design to make a quilt, but it doesn't take an engineer or accountant. In other words, it doesn't take professionals or experts; it takes vision, craft, patience and purpose.