Ancilla College is going green! so says South Bend, Indiana ABC channel 57. This is most certainly not fake news. We're mighty proud of Poor Handmaids and the folks behind their groundbreaking work. The provincial leadership is worthy of 5-stars for it's leadership and the lay staff (CFO, building/maintenance/engineering, fleet management, etc.) have perfectly executed two significant development phases within the span of little more than a year. That's amazing. In particular, Adam Thada, Director of Ecological Relations has had a steady hand at the wheel the entire time keeping the organization steering in sync. (Adam takes ABC57 for a tour of the new solar installation.)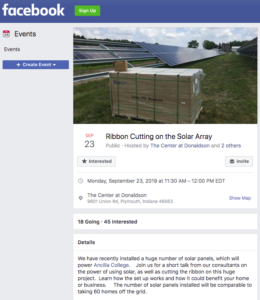 We've heard plenty of self-proclaimed "sustainable organizations" claim that they "just can't do much right now" (a.k.a. greenwashing or acquiescing). Not Poor Handmaids. This is what real leadership looks like. They'll be hosting a ribbon cutting on September 24th and we'll be honored to be there.
See our previous posts on this inspiring organization by clicking Poor Handmaids for Jesus Christ, and Center at Donaldson in tags below.