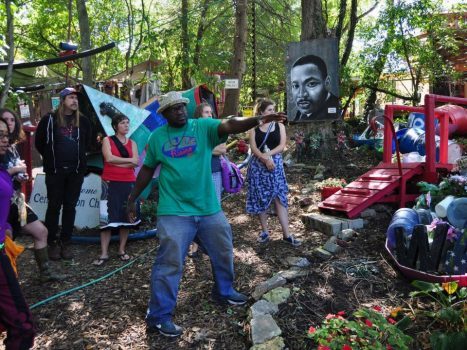 UPDATE OCTOBER 29, 2020….. Phase 2 Solar begins!
UPDATE AUGUST 10, 2020…… Solar installation completed.
UPDATE JULY 15, 2020…… Solar installation date will be Monday, July 27th.
UPDATE: JUNE 18, 2020….. we've made several updates since this date stamp and will make a major update after the July 4th holiday.
**We've surpassed our fundraising goal, thanks to a large group of contributors. This is a truly amazing outcome built dollar by dollar, individual by individual. Since we've raised a surplus, we'll immediately invest in what would have been a Phase 2, in accordance with DeWayne's guidance and vision. This will include equipping the garden's hands-on lab with training equipment so the community's youth can learn to install and maintain solar for their community and gain jobs in the solar industry. Planting the seeds! More to follow, but for now, thanks so very much. Donations for this phase are closed but we can always use your ongoing support to keep these projects growing. Please continue to spread the good work and word to your networks. **
_________
energy. food. community. ideas. solidarity. resilience.
These words to live by come to mind every time we think of Burton Street and DeWayne Barton. "One way to create resilience is 'creating a way out of no way'" says Barton, the community organizer, educator, visionary, and artist who co-founded the Burton Street Community Peace Gardens. His vision and persistent dedication to lifting up his community is deeply humbling. It is also more necessary than ever given the injustices we're seeing playing out on the streets of Minneapolis and across America. Here's an opportunity to build up, especially as we witness our cities burning down.
Burton St Phase 1
Burton St Phase 2
We've known Barton and his solar vision for over a decade, having first met through Interfaith Power & Light. His community has patiently waited through solar false hopes. Now, we want to help make it happen; to fuse home grown energy and food in the same community space. We're doing our part to organize, design, procure and install a system for less than half of what one would cost in the for-profit marketplace. That's AIRE's contribution. We need your help.
Our goal is to raise $8,500 for a solar electric system by June 20th, the summer solstice. Every penny will go to this project and there's NO profit built into this for anyone, period! Community, ideas, and solidarity can make solar a reality right now at Burton Street Community Peace Gardens. Your donation is tax deductible.
The solar project
Solar will power the garden's greenhouse, meeting space, hands-on lab and performance stage. It will also power learning, energy literacy and awareness.
About the gardens
Besides growing nutritious food, Burton Street Community Peace Gardens hosts a farmers market, live local music and performance, community educational hands-on training, and an amazing display of artistry created entirely of other people's junk. It's hosted the likes of bell hooks, a well-known critical feminist scholar, activist, author and many others from the community engaging in conversations on important issues around resilience and social change. The gardens are such an important healing and reimagining space for the community, its youth in particular, and also for wider communities of interest.

About AIRE
For over a decade, AIRE has experimented with ways to bring renewable energy to nonprofit, community-based organizations. We've had successes and have learned from the school of hard knocks along the way. We say "make the road" because we know that we have no choice in these especially difficult times when community-owned renewable energy is so aggressively repressed by the big monopoly utilities, and now even more challenging with the coronavirus pandemic, collapsing economy, and social disintegration. Making the road comes from the popular educators, Myles Horton and Paulo Freire, who took a Spanish proverb and made it a mantra- "traveler, there is no road, we make the road by walking" [see "We Make the Road by Walking: Conversations on Education and Social Change"]. Freire interpreted Horton's emphasis on action as opposed to perpetual planning to mean, "in order to start, it should be necessary to start." DeWayne Barton would surely agree, since his credo, to repeat, is:
"Creating resilience is 'creating a way out of no way.'"
For information, contact:
info@aire-nc.org
Please contribute if you can. Help make the road. THANK YOU!
AIRE is grateful for your support of our work!


Other posts on the project:
BURTON STREET COMMUNITY PEACE GARDENS SOLAR PHASE 1 HAS BEEN INSTALLED
A NOTE TO CONTRIBUTORS AND FRIENDS: BURTON STREET COMMUNITY PEACE GARDENS SOLAR PROJECT INSTALLATION IN JULY!
Burton Street Community Peace Gardens 'Make the Road Solar' on Blue Ridge Public Radio
SOLIDARITY: PEOPLE, PLACES, PROBLEMS AND OUR COLLECTIVE POWER TO TRANSCEND
HISTORICAL MEMORY, HANDS-ON LEARNING, SOLAR POWERED RESILIENCE: BURTON STREET COMMUNITY PEACE GARDENS SOLAR
BURTON STREET COMMUNITY PEACE GARDENS: ESSENTIAL HEALING AND LISTENING SPACE