WILLIAM "SHORTY" IRBY and a monument meant to endure…
Because the crowdfund campaign for the solar project has been so successful, it's allowing the gardens to leap right into its Phase 2 solar vision, which is equipping the garden's hands-on lab with equipment to train for solar. This is very significant and here's the story. (Republished from Hood Huggers' quarterly newsletter)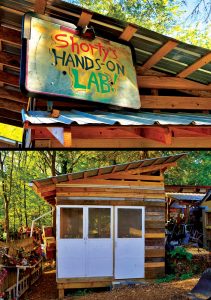 Shorty was born in 1946 and was raised in Asheville, NC. He lived a number of years in West Asheville and retired in 1991 from the railroad industry. If anyone needed help in the neighborhood, he was there. Short would share his endless skillsets, laughter, smile and jokes.

In 2007, the Blue Note, a historic landmark built by E.W. Pearson in 1924, was torn down. E.W. Pearson helped establish the Burton Street Community, WNC Agriculture Fair, the Asheville Royal Giants baseball team, among other things. To honor that history and further celebrate our community, Shorty assisted with installing a neighborhood sign.
Shorty was a skilled craftsman who provided his hands-on leadership to help guide young people. He helped young people design and install the permanent neighborhood sign, highlighting the neighborhood founder, E.W. Pearson. The sign project laid the foundation for launching Green Opportunities, a local green jobs training program.

To recognize Shorty's skills and contribution to our neighborhood, we worked with Tony Beurken to design and build "Shorty's Hands-on Lab", using reclaimed materials, including doors that were a part of the former Lee Walker Heights Apartments. Lee Walker Heights was the first public housing built for the black community during Urban Renewal. It was demolished in 2019 to make way for mixed income housing.

The workbench inside the Hands-On Lab was retrieved from the former Livingston Street School/Reid Center (now the Arthur Edington Center).

The Hands-On Lab will be used to help grow the next generation of skilled crafts-people. This working monument is designed to build confidence, while creating useful projects and/or art for the neighborhood. Funding for this project was provided by the RWJF Culture of Health program.

In honor of our community's black history, Lee Walker Heights, the Livingston Street School/Reid Center, and our longtime friend, Shorty Irby – LET THE HANDS-ON SKILLS BEGIN!
Yes, our solidarity is building the solar and now, let the hands-on skills begin! Indeed.