The wonderful people at the Center at Donaldson up in Plymouth, Indiana are paying attention to the natural world, or maybe I should say our earthly home in relation to its travels in the solar system. In case you haven't noticed, the sun has risen in the sky after what has been for many a cold, dark winter. Yesterday, March 20th at 5:58pm, that's the moment spring officially arrived, the sun reached the equator on its pilgrimage back to the northern hemisphere.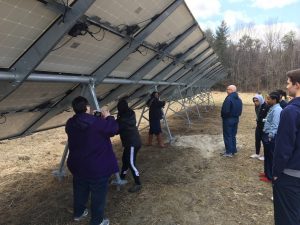 The sun's gift brightens the spirits of many seasonally affected in the northern winter. But it also gifts us energy. The plant world knows this and a growing number of solar power adaptors know this too. Some are very tuned in. Back to our friends in Indiana. The ANCILLA DOMINI SISTERS and their various missions at the Center, have been an inspiration to us at AIRE, as has the lay staff there. They take seriously the idea of caring for one another and of integral ecology, they give us hope and can show us the way. (You bet they read and studied the "Pope's Climate Encyclical" and especially Chapter 4.) They're about to install Phase 2 solar, which will consist of a half-megawatt, about 5 times larger than their Phase 1, now 9 months in operation. (Disclosure: AIRE is involved with the planning and development.)
Yesterday they tilted their panels. This exercise, done manually in the spirit of "appropriate technology" is both for maximizing their solar generation, and maybe more importantly, to tune us all back into the natural world in the age of machine learning and fixation on our "devices."
Our previous posts on the Center at Donaldson are here, here, here, and here. Follow along. They're shining a light on the path ahead.
You should also read Adam Thada's posts on the Center's ecological blog.