Prior to Earth Day this year, I'd thought of writing a critical piece, but just didn't make the time to follow through. But the voice in my head just wouldn't let the thought go, whether I was out on the bike, working at the computer, or sweeping the garage. Rebecca Leber's piece at MotherJones, I'm an Environmental Journalist and I Hate Earth Day, was the final straw, so I thought yes I'm going to say something too.
To me Earth Day has become a lot like Black Friday or any other commercial excuse to promote products and consumption, and thus stripping it of any critical consciousness of the growing crisis. I've had this timescale theme in my mind reflecting the many, many times that researchers, writers and thinkers have said we've wasted 30 years, or now, that we've got only until 2030 to draw down our carbon-junkie habit. (a working paper here and most recently, seeing Bill McKibben's Falter: Has the Human Game Begun to Play Itself Out?)
If we've got so little time to make big changes then it seems absurd that a "day" per year will get us there. Leber's right– every day is earth day (small letters). Although AIRE's focus is on transforming the energy system, we explicitly recognize that our work takes place within larger, more connected social and ecological systems. Human rights, inequality, privacy, mass extinction…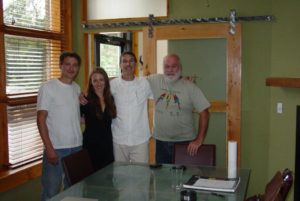 And here's where connection comes in. Senator Gaylord Nelson is widely seen as the founder of Earth Day. However, that first celebration came with a lot of dialogue and organizing. Among that group of organizers was Loren Cole, a doctoral student at UC Berkeley at that time. Loren mentored AIRE and contributed greatly to its formation and underlying philosophy. During a visit to Boone many years ago, Loren told me about his preferred version of Earth Day. He argued that it should NOT be merely a one-day celebration; rather it SHOULD be embodied in every day work. His favored plan was to create the structures, systems and institutions in every community that would sustain the vision and practice of earth day. That is to say, Loren was a worker, a builder, a systems guy. (1)
Loren's philosophy was akin to what Myles Horton's was with organized religion. The colorful popular educator and Highlander Folk School founder once talked about his firsthand experiences in church on Sunday out in rural Tennessee as compared to what he witnessed in his community the other six days of the week, declaring "I was fed up with this whole hypocrisy, and I was just ready to explode about this Sunday religion." (2)
I agree with them all, because, as Rebecca Leber writes, "Earth Day has the dissonance of a trite, too-little-too-late rite marked more by corporate greenwashing than a recognition of the Earth's complexity." Hats off to those that do celebrate and then get about the hard work the other 364 earth days a year.
Footnotes:
(1) See more on Loren Cole here, including an interview he did shortly before his death in August 2017.
(2) We Make the Road by Walking: Conversations on Education and Social Change. Myles Horton and Paulo Freire. Temple University Press. (p. 30)