Solar projects are obviously valuable ecologically and financially, but they can also spread enthusiasm in a community. Last Monday we had the pleasure of meeting a group of folks who are doing just that in the beautiful little town of Plymouth, in northwestern Indiana. They're well into the restoration of their historic "main street" (N. Michigan St.) theatre. One thing we especially loved about the Rees Theatre is that the community members are planning to install solar on the roof.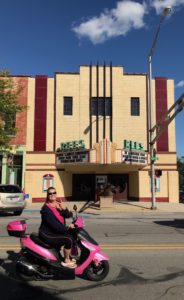 The Center at Donaldson, just down the road from Plymouth, has just completed two solar installation phases (more on that here) that now yield almost 700kW (that's almost ¾ of a megawatt and a big accomplishment for a nonprofit organization). So there's a solar buzz. At that ribbon-cutting we met Rees Theatre enthusiast, volunteer and Plymouth native, Bill Langdon, who extended us a warm welcome to visit the theatre. We promptly went and were glad we did! It affirms what can be done when a group decides to do something big and meaningful. The Rees Theatre restoration group is riding that wave.
It's hard work but visions and actions when they have purpose are FUN. After our construction tour of the Rees Theatre, Bill took us across the street to the Wild Rose Moon, a performing arts venue that might as well be in Lake Wobegon, with its live stage on street level and a live radio broadcast parlor downstairs where the Wild Rose Moon Radio hour broadcasts regionally. Their mantra says it all, especially for small towns and sustainability– "arts in action in service to community".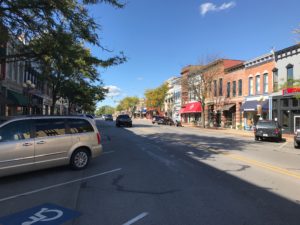 They envision a collaboration with bigger shows at the Rees and many other great shows at the Wild Rose Moon. We imagine a small town mainstreet alive at night with the arts thanks to the vision and work of these fine folks.
Thanks to Bill for sharing a glimpse of it with us. Makes me want to live in Plymouth!
Other towns with noteworthy projects? Of course there is the iconic Boulder Theatre. In our hometown Boone, we have the Appalachian Theatre. We love E-Town Hall in Boulder not only for E-Town, the great program that happens there, but also for SOLAR on the roof.