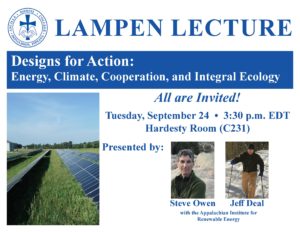 Jeff Deal and I had the great pleasure to speak to a group of Ancilla College faculty and students, members of the Poor Handmaids for Jesus Christ community, and to community members at large on September 24, 2019. Our Lapen Lecture topic was energy, given that this community had worked a miracle of sorts by installing nearly 700kW of new solar power on its campus in a little over a year. They've shown what is truly possible in a time when the mind-set of some is "can't do."
The Lampen Lecture Series (named after Sr. Joel Lampen, the first President of Ancilla College) was designed by members of the Catholic group on campus to combine the universality of the Catholic Church, the international character of the PHJC, and the Earth Charter for the purpose of promoting each individual's ability to think beyond his or her own experiences and interests.
HERE is our talk, "Designs for Action: Energy, Climate, Cooperation, and Integral Ecology".
See AIRE blog for many posts on this amazing and inspiring organization and their renewable energy exploits.