The Indiana Chapter of the American Planning Association will be holding its semi-annual professional development conference on July 30th, 2020. We mention this event because it promises to be informative in addressing an important yet, often overlooked topic– land use after solar is installed. But more importantly to us, it showcases the bold and brilliant solar leadership at The Center at Donaldson.[1]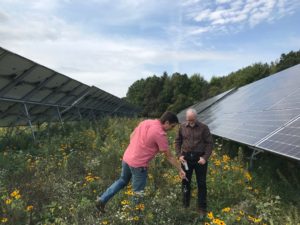 The significant solar the center installed in a short period didn't just stop with installation. No, it's reach extends educationally by demonstrating and sharing best practices. Now it's showing the way with integration of pollinator plant propagation within the solar arrays as opposed to chemical herbicides or mowing. Adam Thada, Director of Ecological Relations at the center will be leading the project discussion. His deep knowledge and articulation will not disappoint. Here's a flyover of one of the arrays showing the flowers between the panel strings.
This conference will cover national, state and regional, as well as local (Indiana-centric) perspectives on solar. Consistent with these pandemic times, the conference will be virtual. Registration is only $25.
——-
[1] The Center at Donaldson, in northern Indiana, is the beautiful rural site of several ministries of the Poor Handmaids of Jesus Christ. We've posted many times on their inspiring efforts to bring solar campus. Their story is well worth sharing. Readers can retrace our posts by following the tag Poor Handmaids of Jesus Christ.