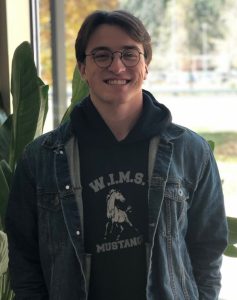 AIRE extends a warm welcome to Damian Gregory, a rising senior at Western Carolina University, where he expects to complete his Bachelor of Environmental Science with a minor in Geology & Environmental Health in May 2021. Damian, who is from Statesville, NC, has already accumulated important experience in energy and sustainability at Western and is personally committed to advancing both his knowledge and contribution to renewables, justice, and sustainability.
At AIRE, he will play roles in the technical, cultural, fundraising, and communications of our work, beginning immediately with our newest project, "'Make the Road Solar' at Burton Street Community Peace Gardens" in West Asheville. We also recognize the importance of listening to, and learning from millennials and Generation Z'ers and are pleased to have Damian on board in that educational role as well. Our educational philosophy is grounded in participation, cooperation, and multiple ways of knowing beyond "expert" where every person has important knowledge to develop and contribute. He will be a valued member of our small team, larger peer network, and a respected contributor to our praxis.
We really admire Damian and his pursuit of knowledge and experience, especially in the absence of funding, which tells us this pursuit is more valuable than money. The times are disturbing and fraught with peril, but we also see the contours of a coming transition to a better society and world. Maybe we're close and we're proud that Damian is making a difference.
Welcome.
Damian can be reached at: damian.gregory@aire-nc.org