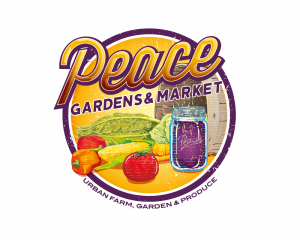 • We now have all of the system components on hand (e.g. solar panels, inverters, racking, etc.).
• Required filings have been completed at North Carolina Utilities Commission.
• System interconnection request has been filed with Duke Energy Progress.
• Installation is scheduled to be July 27th, maybe sooner.
Looking back at the crowdfunding campaign that made this project possible, we thought you'd be interested in some of the background and contributor comments. Here are some highlights:
• 291- unique contributors
• $2 to $500- range of individual contributions (every dollar was critical and equally important)
• Contributions came from Los Angeles, Chicago, New York City, Maine, Nebraska, Alabama, lots from North Carolina and about half of those from the Asheville area.
Clearly, many folks love the Burton Street Community Peace Gardens. Here are some of the comments that supporters sent along with their contributions:
• Even though you have exceeded your goal for your solar project, I want to support DeWayne in Phase 2, training Burton Street community youth in installing more solar in their community and gaining job skills.
• Yay! Love this project!
• What a beautiful light the Peace Garden is in Asheville. Here's to harnessing all that light for even more amazing things to come!
• So excited you surpassed your goal and wanted to give in support it Phase 2!
• This is amazing! Keep up the good work!
• I hope y'all continue to flourish and provide beauty, peace, education, and safety to the Asheville community
• Happy to be a part of you meeting your goal!!! congratulations and thank you for your work
• We are rooting for you!!!
• I love the Burton Street gardens and know this project will further improve this community resource.
• Keep harnessing the sun
• Love your space! Hope this small amount helps!!!
• this garden is the most amazing place in asheville and holds a special place in my heart
• Your gardens are a beautiful and safe space. Keep up the great work!
• I remember talking with DeWayne about incorporating solar power for the Mystic Dreams structure back in 2011. So exciting to see this finally coming to fruition. Congratulations to all involved!
• for Burton Street Community Peace Gardens and DeWayne Barton's critical work in the community!
• I like how you do things. Keep going!
We'll post lots more after the project is installed. And one final note for now, others have expressed interest in adding solar power to their projects. Urban gardens, food hubs, and community value added kitchens, to name a few. This is thanks at least in part to your making this Burton Street solar project a reality and the seeds it sowed.
Thanks again, everyone! Even in the relative isolation of a pandemic, you've proved that we can come together in good work. Make the road by walking. More posts on Burton Street Community Peace Gardens Solar here.
In gratitude and solidarity,
Steve Owen
AIRE